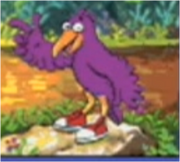 Simon is the narrator of The Tortoise and the Hare, the main protagonist in the Living Books sampler.
Design
[
]
Simon is a purple bird that has an orange beak, orange legs and red sneakers.
Quotes
[
]
That hare is moving so fast, he's not paying attention to where he's going!
Hi! I'm your host, Simon! Welcome to the Living Books sampler!
Click on the arrows to select the sample of one of our great stories, and then click OK! Okay? Okay!
After the first part of the story is read to you, use your mouse to click all over the screen and find lots of hidden surprises! When you're done, click on the page number to come back here! Have fun! See ya!