Sister Bear is the main protagonist of The Berenstain Bears Get in a Fight and The Berenstain Bears in the Dark. She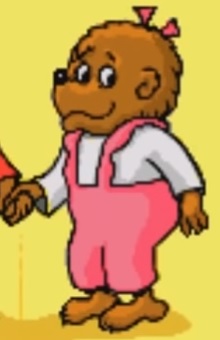 is voiced by Imogene Tondre in the Berenstain Bears Living Books games Get in a Fight and in the TV show The Berenstain Bears (1985 TV series) in the Episode 33 Season 2 "Get in a Fight" aired on TV on October 25, 1986.
Gender: Female
Birthday: September 12
Home: Tree House in Bear Country, Pennsylvania
Siblings: Brother Bear
Other Family: Grandparents, Cousins
Favorite Color: Pink
Favorite Food: Honey nut Pancakes, Burgers and Fries, Vegetables, Fruit, Ice Cream, Cake, Spaghetti, Pizza and Peanut Butter and Mushy Banana Sandwiches
Likes: Fun days, teasing Brother Bear, showing off her talents.
Dislikes: Rainy days (especially when she and Brother get in a fight sometimes), spilling food, being left out of the boy's club. Being alone in the dark, having Brother Bear kick her doll or steal her toys.
Community content is available under
CC-BY-SA
unless otherwise noted.